HDTV
BUYING GUIDE
I would not recommend that anyone buy a new HDTV without reading this book first.
Finally stop wasting hours plowing through reviews and Internet sites.
Find out which new TVs are really worth it, and which technologies are best.
Plasma? LCD? DLP? You'll know exactly what's best for you, from a completely unbiased source.
Make the right buying choice and save hundreds (guaranteed) and maybe even thousands with secret buying tricks retailers would hate for you to know.
Written by Robert Ruffo, who has actually directed HDTV shows.
Updated January 2007!
A fast, easy read - even for those who aren't really sure what HDTV is - but experts will learn a lot as well.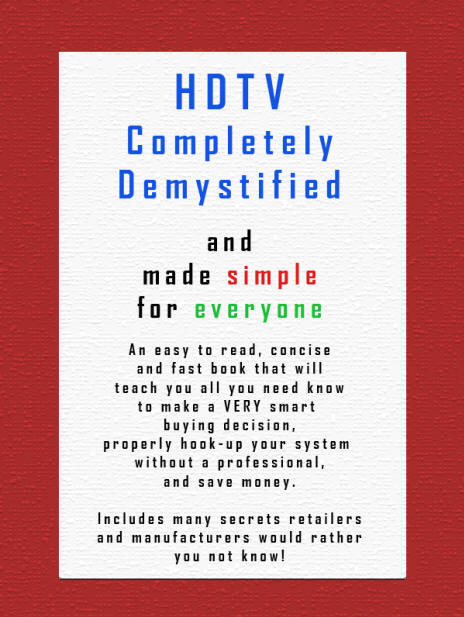 From my eBay reviews (which are 100% positive - check here to see for yourself):
"Good product, fast delivery"
"Great Article - Worth the Wait to get it!" (from pre-order)
"Really good info - Thank you!"
"Learned a lot from reading this. Now I know what to look for."
Buy now from Paypal ($10 - no tax).
You will receive an e-mail with instructions for download.
Many people want to upgrade their televisions to HDTV, but most are confused as to which is the best kind for their particular needs.
Worse, some think they have enough real information, but only because they've been mislead by an HDTV retailer or manufacturer.
You cannot buy an HDTV by simply going to the store and looking at different models like you could in the old days of CRT. The average consumer spends 35 hours researching an HDTV purchase, and almost 40% are "less than sastisfied" with their purchases!
HDTVs are as complex and varied as computers, and for many reasons well-explained in this book, what you see in a store will most likely have nothing whatsoever to do with the experience you will have when you take your new television home. You really need to be well-informed!
You could either
1. Spend hundreds of hours trolling the Internet, wading through thousands of pages of often incorrect, poorly explained information, and incomplete, misleading reviews, or worse still, make the mistake of trusting an electronics store salesman's "advice" (Don't kid yourself, they just push whatever has the highest commission and/or is available in their store. My grandma could give you much better advice than most TV salesmen.)
OR...
2. You could spend $10, read this eBook, and make a really wise choice that maximizes your budget.
Save your valuable time and money!
Simply buy this guide
What you will get, for just $10:
1 – The best and most up to date HDTV guide available! (Updated January 12, 2007!) This book is all you need, you won't have to spend 30 hours more doing "research".
2 – After reading this eBook, you will become the foremost expert on HDTV amongst all your friends.
3 – Complete knowledge on how to connect and calibrate your television like a pro.
4 – Money-saving tips that I guarantee will save you at least $300, if not more, no matter which retailer or model of HDTV you chose.
5 – The ability to read through the sometimes deceptive information (or "specs") dished out by television manufacturers and electronics retailers.
6 – Specific model recommendations.
7 – Much, much more. (See the table of contents.)
Have a look at the table of contents:
1. Introduction

2. The Real Difference Between "I" (interlaced) and "p" (progressive) Signals - And how it applies to new-technology TVs. You may think you know what it is, but most likely you don't. Virtually no electronics store salesmen do, and even some pro review writers seem to have trouble understanding it. Simple, visual explanations.

3. Resolutions and the Real Difference Between all the New Signal Types, (HDTV and not), Fully Explained. Almost certainly not quite what you thought.

4. What Resolution Should I Buy? Is 1080p worth it?

5. Other Resolution Issues: Upgrading Your DVD Player – Upconverting players and HD-DVD vs. Blu-Ray.

6. Color Definition, Viewing Angles, "True Contrast", Black and White Crunch, Color Count, and Reponse Times – What the specs really mean, which mean anything at all, and which can in any way be trusted, and how to look for good performance issues in the store.

7. Chosing the Right Size of HDTV - Good advice from visual and consumer experts, and a better understanding of the real benefits of a larger screen size.

8. The Various Technologies Compared – LCD vs. Plasma vs. DLP Projection... The most complete and informed comparison you will ever find anywhere.

9. Cables and Connections - Contains a little-known fact that will immediately save you about $70. The right cables are very important.

10. Calibration and Installation Tips – Useful tips to get the most from your television, many menu-parametres explained.

11. The Serious Problem with User and Pro Reviews – Why they are not as useful as you may have thought, or as retailers would like you to believe.

12. General Shopping Tips - Contains many valuable tips that will easily save you hours of time, and, I can guarantee, several 100s of dollars. The one section you should not miss.
Be smart – invest $10 and learn all you can before spending thousands of dollars on a new TV!
Buy now from Paypal ($10 - no tax).
You will receive an e-mail with instructions for download.